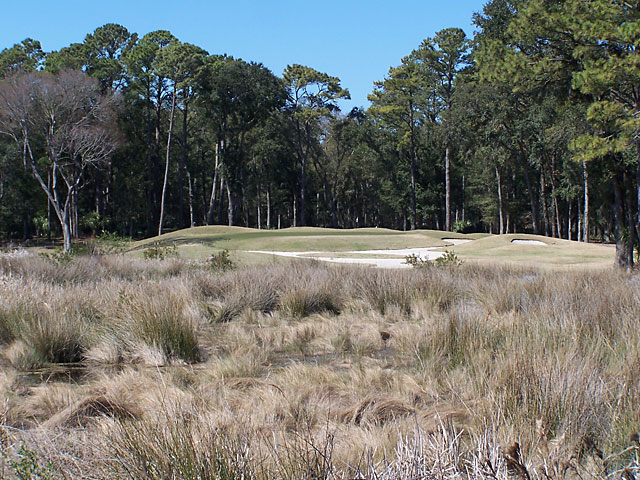 Marsh grass, live oaks and sand give Haig Point's layout a strong links feel. Wind and views of the Calibogue Sound only add to the effect.
Golf Community Review
If you have a bit of the Garbo in you, Haig Point on Daufuskie Island, SC, may float your boat. Isolated and reached only by an hourly ferry from Hilton Head Island across the Calibogue Sound, the small community offers upscale leisure living and one of the best golf courses we've played in the last year, a 27+ hole Rees Jones layout that winds through live oaks and marsh and eventually along the Calibogue. Why 27+ holes? Jones was so smitten with the terrain he just couldn't help routing two holes in two different ways.
Only 100 families live full time in Haig Point, but residents never feel alone. They are a tightknit group, both because they have to be and, it seems, want to be. We were greeted warmly when we met some of them for drinks on a Friday night in November in the community's "mansion," and later the clubhouse dining room was filled with chatty members who bellied up to the piano and belted out a few songs after dinner.
The mansion, which includes a few guest rooms for those visiting friends or looking at property, had been relocated by boat in the 1980s from somewhere in Georgia and reconstructed at Haig Point, just west of the ruins of the former slave quarters. The slave homes' tabby material was made from a mix of oyster shells and a kind of concrete, and it was a little eerie to see the contrast of modern and 18th Century, of luxe and servitude, side by side. The original developers of Haig Point, International Paper, left the ruins in place as one reminder that Daufuskie had a sobering history before it gave way to mostly leisure living. Another such reminder is the Mary Field School, where author Pat Conroy taught Gullah children in the 1960s (Jon Voight had the starring role in the 1970s film of Conroy's island experience). The school is still in use although the Gullahs, for the most part, are gone.
Real estate prices in Haig Point are almost too good to be true, with cottages and single family homes nestled in the live oaks going for hundreds of thousands of dollars less than comparably scaled homes on the mainland, and with $65,000 club membership fees thrown in for good measure on most sales. But you know that when things seem too good to be true, there is usually a catch or two; at Haig Point, there are a couple of catches. One is that carrying costs are high, with club dues running more than $10,000 a year. And if your fellow members decide they want to rehab the clubhouse or beach club, you will share in the potentially steep assessment. After all, on an island where virtually everything is shipped in, including labor, prices are much higher than on the mainland (Note: If you buy a piece of property at Haig and elect to build a house, your construction costs could reach as high as $500 a square foot, compared with around $200 on Hilton Head).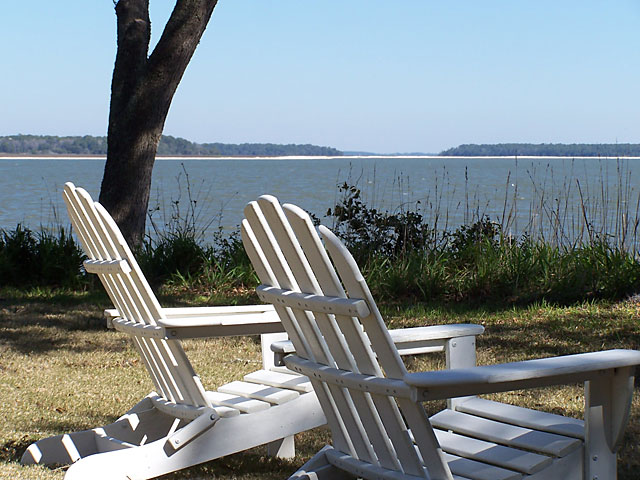 And then there is the most obvious "catch" of all, Daufuskie Island's isolation, a half hour boat ride from the mainland, and if you need provisions or just want to get away, there is only one way in and one way out. That said, those who have chosen Haig Point love it and speak of their community as an oasis of calm. They are a hardy and upbeat group, an engaging mix of former captains of industry, a few architects, real estate people and consultants who can work via satellite from the island, with the occasional flight from Savannah to meet with clients. Those clients should hold out for meetings occasionally at Haig Point. It's a wonderful, soothing and friendly place, and for its residents, half the fun is getting there.
We spent two days at Haig Point and also played the nearby Melrose Club at the Daufuskie Island Resort (we'll comment on Melrose and its fine Jack Nicklaus course at a later time). In a later post, we'll also discuss our visit to Bald Head Island, site of the only other "true" island golf community off the east coast.