Most friendly golf matches among strangers are won and lost on the first tee, before a shot is struck. It is all in the negotiation of terms and handicaps. Rule #1 in the negotiation process: Don't ever give an opponent a stroke on any par 3s, let alone all of them, no matter his age or physical condition.
I violated Rule #1 at Porters Neck Country Club just outside Wilmington in January. My young host (35 years old; everything's relative) had arranged to round out our group with two friendly retirees, Rick and Gary. No sooner had we shaken hands than Rick asked, "How about a game of Wolf?" Rick's eagerness sent up all sorts of warning signals, but I was the guest, and it would have been impertinent to decline the invitation. I figured my host had his own radar working, but maybe his ability to drive a ball 300 yards and straight gave him a strong sense of confidence (his 18 handicap didn't hurt either, compared with my 10). He accepted the challenge, and the game was on. Only after handicaps were exchanged did I realize I might be doomed; Rick was a 27 and Gary a 30, meaning Rick would get a stroke from me on every hole but one par 3, and Gary would actually double up on three holes. Worse, I learned just before we teed off that Rick was a financial planner in his working days and rarely finished out of the money in club tournaments. This was going to be tough.
For the uninitiated, the rules of Wolf offer an opportunity to the lowest handicap to make wise choices and overcome bad play. Indeed, Wolf is a game of choice and chance, and if you choose wisely, it almost doesn't matter how you play. Almost.
Here's how the game works. On the first tee, the group decides the tee-off order for the entire round. Player A drives first on holes 1, 5, 9, 13, and 17; player B on holes 2, 6, 10, 14 and 18…and so on for the others. The first one to drive, the Wolf, has a choice after he tees off: He may either decide to go it alone – that is, take on all three other players on the hole – or wait. If he goes it alone, he must win the hole from all; a tie is a loss. As each successive player tees off, the Wolf can decide on his partner for the hole. But he must choose his partner before the following player tees off, so there is much chin stroking on each tee box…
…and much opportunity for miscalculation. I guessed wrong virtually every time. Gary, a "strong" 30 handicap who would make a great member/guest partner, sent his tee ball down the fairway a good 200 yards a few times when I was the Wolf, once on a par 4 where he was receiving two strokes. "Gary, you're my man," I declared confidently, knowing he was in the middle of the fairway in minus one. My man then grounded three fairway iron shots, sent a chip shot over the green and missed a five footer coming back that would have halved the hole.
And then there was Rick the financial planner. He sank 20 foot putts to beat me and my partner a few times on the front nine. He didn't miss anything inside 12 feet all day, except once when he was my partner, and his chipping was unerring. I chose him a few times on the back nine after he struck nice, middle of the fairway drives. But you know how the mutual fund companies warn you that past performance is no predictor of future performance; his prior performance was no predictor when I was riding him.
At day's end, I forked over my $5 to Gary and Rick. As lessons go, it seemed a small price to pay.

Footnote: Porters Neck in Wilmington, NC, is a terrific Tom Fazio layout that was totally refurbished a year ago in preparation for the club going private. Every hole is a nice test, with typical Fazio bunkering in the fairways (which is to say they are large and in play for the longer hitters and just out of reach for those who play the shorter tees). Bunkers at greenside have been brought closer to the putting surfaces, as Fazio originally designed them a couple of decades ago. Condition of the course in January was excellent, indicating that in spring and summer it will be exquisite. By summer, Porters Neck should be able to fill out its membership rolls and eliminate daily fee play. They have raised the current rates for public play to north of $100 a round. Initiation fees are $30,000. For membership information, contact Leslie Hurley, membership director, at lhurley@portersneckcountryclub.com, or (910) 686-8164.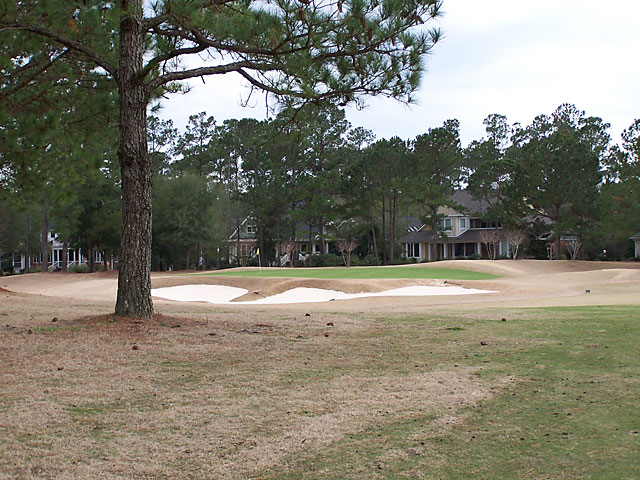 Porters Neck could go private by this coming summer. The course is a fine example of Tom Fazio's work.