During our research trips, we not only review golf courses in communities but also some of the better free-standing private clubs. They are a viable alternative for those who do not wish to live in a planned community or pay for certain amenities they don't use.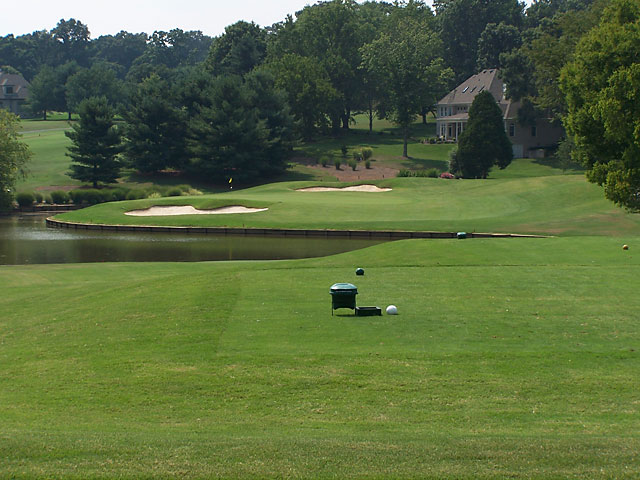 Fox Den's par 3 2nd hole is a sleek introduction to a sophisticated round.


Some golf clubs just go about their business, attracting new members by word of mouth rather than elaborate marketing, building their reputation by taking good care of their golf course and their members and letting the members do the advertising for them.
That's the way it is at the Fox Den Country Club, which includes an eclectic private golf course 15 miles southwest of Knoxville and, by all reckoning, an exceedingly well-managed club. Atlanta architect Bill Bergin renovated the 1968 Willard Byrd design in 2004, resurfacing all the greens, reshaping most, and adding new bunkers, a modern drainage system and new cart paths. The work cost more than $1 million, all paid from club funds without the need for an extra assessment. Rather than scheduling the projects one at a time, thereby affecting play for up to 18 months, members were persuaded to close the course for six months and do all the work at one time.
Members run the gamut and include young couples, retirees, a few singles and many local professionals. The first impression of Fox Den on a hot July day was the squeals coming from the swimming pool, confirming that one-third of the club's members have children living at home. But out on the golf course, the pace was leisurely as we played behind a number of 70-somethings; on a 100-degree day, we weren't in any great hurry either. The average age of the membership is currently around 60 but getting younger every year.
The parkland course, which is good enough to have hosted the Nationwide Tour's Knoxville Open the last nine years, employs just about every design element. Sand bunkers are well placed within range of tee shots and approaches to the well-contoured, not overly large greens. Holes without bunkers usually feature elevated greens and/or water on the approaches. One of our favorite holes (below right), the par 4 15th, had it all. The dogleg right was guarded by sand traps at the elbow and trees on the right, requiring either a faded drive at the corner or a safe three wood to land short of the bunkers. A lake protected the left side of the green, ready to gobble any overcooked draws.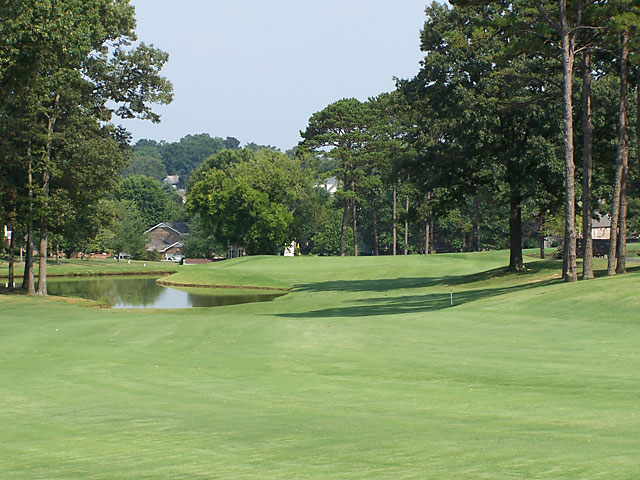 The hole is beautifully designed, everything a good-sized (417 yards) dogleg hole should be.
The course was in great shape, with modestly fast and smooth greens and fairways that propped the ball up a little. There was evidence of irrigation work on one hole where a rope ran pretty much the length of mid-fairway, but the grass in the fairway appeared just about ready for unimpeded play. Fox Den is a course that should be enjoyable to play every day; given the placement of traps and water at greenside, simple changes of pin positions will present a variety of approaches. It certainly is not an easy course, with the short men's tees of just over 6,100 yards carrying a slope of 131, high for that kind of yardage (it is 138 from the tips at 7,100 yards). Best of all, a good walk is rarely spoiled at Fox Den, and 50% of the members carry their bags.
Fox Den, which is open for play year round, is in the middle of a mature housing development that was built in 1969, a year after the course opened. The homes rarely encroach. Most are large and well maintained, but there are a few small ones that could stand major overhauls (or tear down). Prices are relatively modest, as they are in the entire Knoxville area (for now), with nice homes of about 3,000 square feet, when available, selling for about $500,000 and up. About half the members of Fox Den come from the immediate surrounding community.
Membership fees for Fox Den are reasonable given the quality of the golf course, the amenities and the high level of country club attention given to members. Initiation fees are $15,000 with monthly dues of $390 for full golf membership. Membership is of the non-equity variety, but all members get to vote on club business. Late last year, the club's membership rolls were close to being filled.
Fox Den is not at all a snooty private club, as the membership process implies. According to Membership Director Jason Hull, an applicant requires the signatures of two full-time members, but for those new to the area, introductions are made. The club also asks that prospective members attend a "welcom lunch." All that remains is a credit check and approval at one of the board's monthly meetings, and you are in. Hull says he does not ever recall anyone being rejected.
For more information, contact Membership Director Jason Hull at (865) 966-9771 or foxdencc@aol.com. Web site: www.FoxDenCountryClub.com.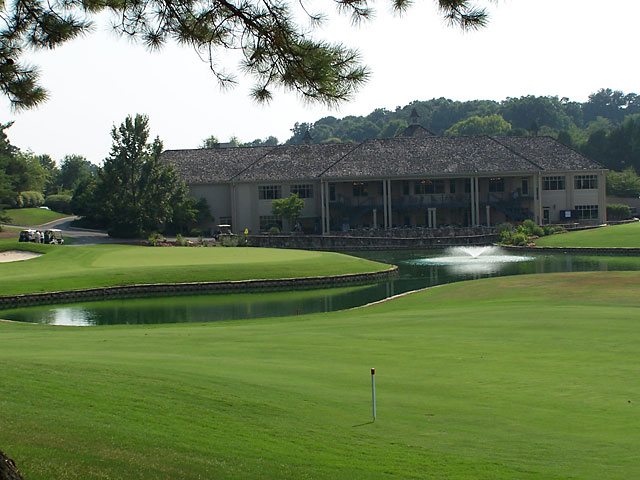 Fox Den's finisher is charming but treacherous.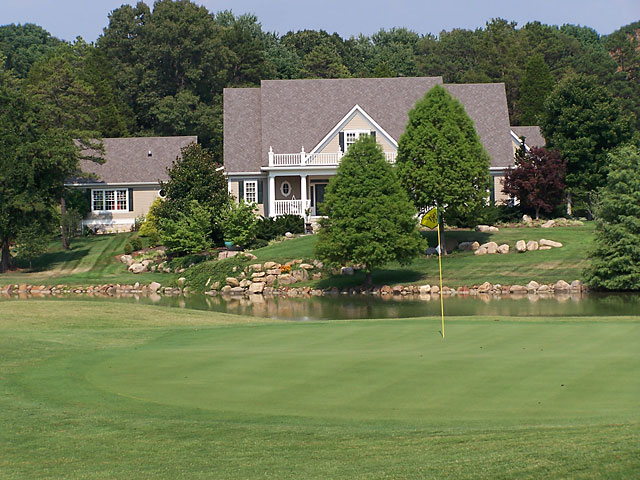 The homes adjacent to Fox Den are an eclectic mix of new and old, but they do not encroach on the course.